At the start of every UTV or ATV racing career, everyone fantasizes about one day making it big with lineups of sponsorships, free merchandise and loads of other perks. Successful racers have spent years perfecting their race. They never worry about sponsorships because they've made a name for themselves and have sponsors "ready to go". However, if you're just starting out in your career, you need time and practice to get up to those levels. 
So, the question is: How can any UTV (SxS) or ATV racer get offroad racing sponsorship?
The best way to get UTV / ATV racing sponsorships is to create a unique and attractive racing resume, proposal letter and online racing profile (website) that you can send to potential sponsors to showcase your bio, skills and what you will do for them if they choose you.
Some companies may require that you send your resume and other documents to them using their online form.
No matter your skill level, getting sponsors for your UTV or ATV race is more about the value that you can bring to your sponsors and what they will get out of the deal. You need to start small and have realistic expectations on the type of sponsors you can get. What's more important is that you need to focus 100% on your race, commit to perform and deliver results. It takes time, but with the right focus, you will have sponsors lined up with offers. 
In this post, we will go over some tips that can help you attract sponsors, negotiate a deal and create a name for yourself in the racing space.
Create a Website / Online Racing Profile
You can do this right now, even if you don't have any coding or design experience. There are free services on the internet that you can use to create a stunning and beautiful racing profile about yourself. 
It's important to setup an online profile because it can be used to demonstrate your:
Racing Achievements / Successes: Sponsors need to know who they are dealing with. Show off your achievements on the website. Even if you haven't won anything and only participated in a few races, mention it. This shows sponsors that you are progressing in your career and is committed to the sport. 
Racing Background: Sponsors love stories because a good story creates a good image for their Brand. Include a brief background about yourself. How you got started in racing and what's motivating you to succeed. Don't be afraid to include some stories of failures. Include how you were able to bounce back from failure and what you did to improve for the next race. 
Knowledge About the Race: Include some information to show sponsors you know how to race. Demonstrate that you understand body positions, how to hit the gas or the difference between concrete and dirt starts. 
Knowledge About Your Ride: You need to demonstrate to sponsors that aside from racing, you understand your ride. Provide a brief description of your vehicle, the parts you're using and areas that you see can be improved. This can provide a signal to potential sponsors to see which areas of your ride they can help you improve if they decide to sponsor you. 

Note that you should not mention the shortcomings of your ride. You don't want to come off as someone who has a bad vehicle requiring maintenance. In this section, you're simply demonstrating your knowledge of which areas you see can be improved.
Endorsements: What others say about you has a huge impact. Include endorsements from other racers or people within the racing community. 
Treat this website as a live resume that can be used to supplement your paper resume (discussed below). The website is also a good place to upload photos that potential sponsors otherwise would not see if you sent them a hard copy resume.
Remember to also include:
A photo of yourself
A profile about yourself (Age, racing frequency, years of racing experience, rank, etc.)
A professional email address such as [email protected] or [email protected]
A phone number so sponsors can contact you. Make sure your voicemail message is professional.
Your address
Links to your professional social media profiles like Facebook, Twitter, YouTube and Instagram.

Note: you should create a new profile on each of these sites that will serve the purposes for your career. It shouldn't be tied to your personal accounts.
A list of future events that you plan to race in. 
Create a Paper Resume
The purpose of the paper resume is for you to have a hard copy resume to send to potential sponsors. If you have created your website, then the paper resume is a shorter summary of your achievements, racing history, and profile. Here is what you need to keep in mind:
Use a Professional Template: You need to stand out from the crowd. A good looking resume shows the sponsor you've spent time and effort into creating it and that you're serious about the sponsorship.
Include an Action Photo: You need to catch the attention of your sponsor by including a professional action photo. Make sure you do it in such a way that they can tell it's you. Usually, this can be achieved by using a sticker with your name on your racing clothing or helmet. 
Keep it Brief: Don't overdo your resume by including every detail. Instead, focus on keeping it brief and concise. It should be no more than 2 pages long. Popular companies receive tons of emails/letters each day and they don't have time to read through everything on your resume. 
Your resume should contain:
Your basic profile information
A brief introduction about yourself
A quick summary of your achievements/wins
A photo of yourself (action photo)
A quick description of your abilities/qualifications
Your website address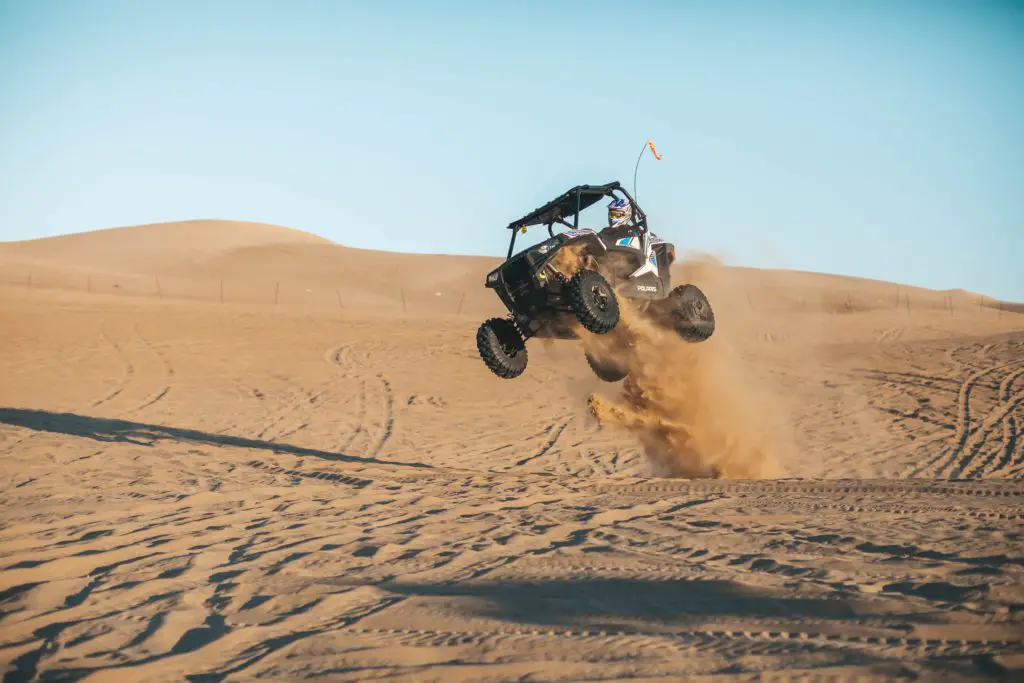 Create a Proposal Letter
Now that you have your resume and website created. The next step is to create a proposal letter. Your cover letter is used to send to your potential sponsors and it goes along with your resume. 
Your cover letter should be brief with a few short paragraphs (no more than 4 sentences each) that describes the purpose of your communication. 
Your proposal letter should include:
A clear subject line stating the purpose of your letter.
The name of the person who will read the letter. Avoid wording like: "To whom it may concern" as it doesn't sound sincere. Make sure you spend the time to look up the name of the person who will read your letter. 
The reason that you are contacting the company
A brief introduction of yourself, your achievements and skills. 
A summary of what you hope the sponsorship would be and the benefits that your sponsor will receive. Do not include wording like "I will promote your company to the best of my ability". It's not specific to tell the sponsor what you will do. Most sponsors already expect you to wear their logo, say thank you when interviewed and mention their brand from time to time. Think about what additional value you can bring. Some of these might be:

Continuous promotion of their brand on your social media profiles.
Provide a link to their website from your website. 
Work with the Media to include a link or mention for their company in press releases (if you win).
Create videos that can help promote the company.

A mention of your enclosed documents (resume) that your sponsor can refer to if they want to look further.
The proposal letter is the first thing that your potential sponsor will read. Keep it brief, but interesting enough for them to look further. 
Print Hard Copy Photos
Print out a couple of photos (3 or 4) of your best achievements/skills and include them with your cover letter and resume. You can't expect sponsors to have the time to look through your website and photo album. Including photos with your resume and proposal letter ensures that they will at least look at a few photos and peak their interests. 
Do Proofreading and Checking
You'll be surprised how many people forget to do this step. Your sponsor will throw out your proposal letter and resume if they lose interest within the first 10 seconds of reading it. This is usually due to bad grammar and sentence structures in your letter. Make sure you proofread and check for grammar and spelling mistakes. 
Format and Communication Channel
Your proposal letter, resume, and photos (3 or 4) can be sent physically or through email. It all depends on the preferences of your potential sponsor. Don't be afraid to make initial contact with them first to see which method they prefer. 
If you will be using email, make sure your photos are resized to be no more than 100kb and in either PNG or JPEG format. Convert your resume and proposal letter into PDF format before sending it out. This will ensure your formatting is consistent.
Note that some application forms require you to copy and paste your resume into their online text box with no option to upload a file. In such a case, you may need to spend some time to format your pasted resume to ensure it's clear and readable.
Where to Apply for Racing Sponsorship Opportunities 
Now that you have all your documents ready, it's time to start applying to different companies. Keep in mind that every company has its own rules for application. It's a good idea to spend time to read and understand the information presented on their website first before applying. 
Here is a list of companies you can start with for ATV / UTV (SxS) racing sponsorships:
*I'll be updating this list often so make sure you come back to check from time to time.
In addition, you can use online services like Sponsorhouse and Hookit to build your profile, track your progress and earn deals with sponsors. Keep in mind that tools like Sponsorhouse an Hookit is a good place to get started but they shouldn't be a substitute for your website, resume and proposal letter. This is because online profiles though these services are often too generic which means it is easy for sponsors to overlook your abilities and skills.  
Have Realistic Expectations
If you're just starting out in your career, no one is going to give you free parts or merchandise. Even if you're willing to do a lot for the company, you need time to gain trust. Sponsors like to back people who stay consistent, display a professional/positive image and achieve results. 
Each company also has ITS own sponsoring budget and levels of sponsorship that they award to different ranked riders. 
Here is what you can expect from sponsors at the beginning of your career:
Discounted Merchandise
Free stickers on your ride
Access to racing seminars, trained technicians and technical support. 
Mentioning you on their company website or social media profiles. 
Agreement on additional perks if you win 
Once you prove yourself, your perks will increase which may include free merchandise, parts for your ride, limited edition kits, contingencies (money paid for your racing events) and much more. 
Negotiating a Deal 
If a sponsor is interested in working with you, they will contact you and present you with an offer on the UTV / ATV racing sponsorship. This is a good opportunity for you to discuss the potential deal, what's included and get clarification on terms and conditions. 
Here are some tips for negotiating:
Focus on the Market: Sponsors want to know how their name/product is going to reach their target audience. Always focus on the market and how you will help the sponsor reach their target audience. Agree on success factors and your expectations once you have achieved those factors.
Be Creative and Open-Minded: Keep in mind that a sponsorship is made due to business interests. The sponsor may require you to do certain things to maintain the sponsorship. On the other hand, if you want something that the sponsor isn't willing to give, be creative and think of additional things you can offer and negotiate those.
Sign the Deal: Once you have ironed out the deal with your sponsor, ensure to have it on paper and signed by both parties. Review the deal to ensure everything that you have negotiated for is in agreement.
Sponsorship Maintenance
Once the deal is done, you need to maintain contact with your sponsor from time to time. This is to maintain the sponsor relationship and announce new achievements which increase your chances of contract renewal once your current one is up. 
To maintain sponsorship, you may need to:
Submit a race report after each race
Report podium finishes
Promote on social media at a frequency specified by your sponsor
Create and provide promotional videos
Maintain parts that were given to you by your sponsor
**Note that this isn't a complete list. It shows some of the things you may be required to do to keep your sponsor happy and maintain the eligibility of your sponsorship.
Final Thought on UTV / ATV Racing Sponsorships
I hope that I was able to help you gain a better understanding of UTV / ATV race sponsorships. If you follow the tips that I have provided in this post, I am confident that you will land a deal. Have fun racing!
If you feel that there are additional tips that I should include or new sponsorship programs to add to the list. Please contact us via our contact form.