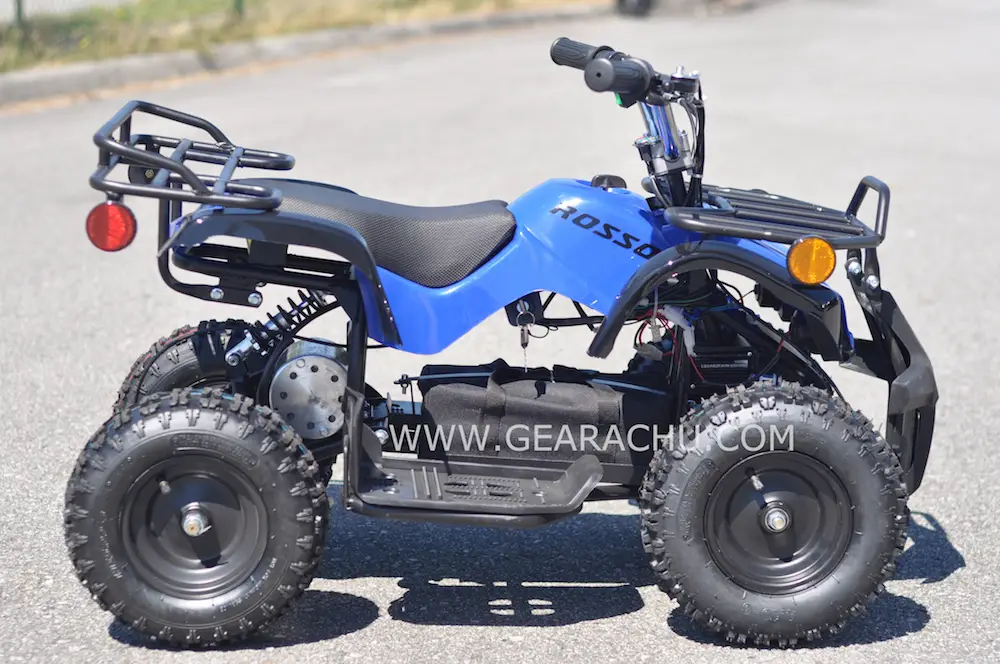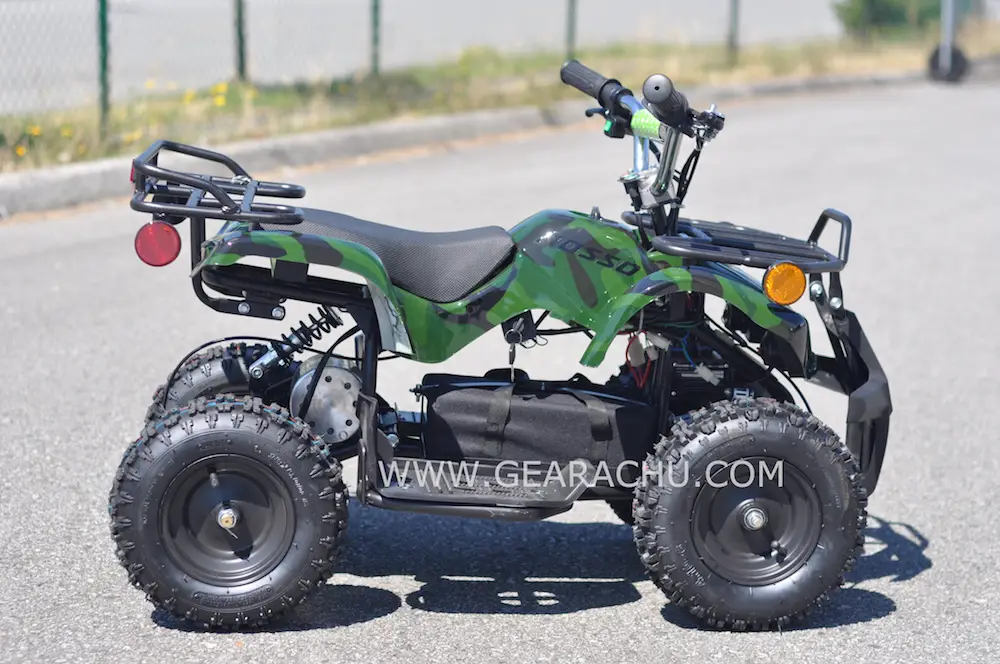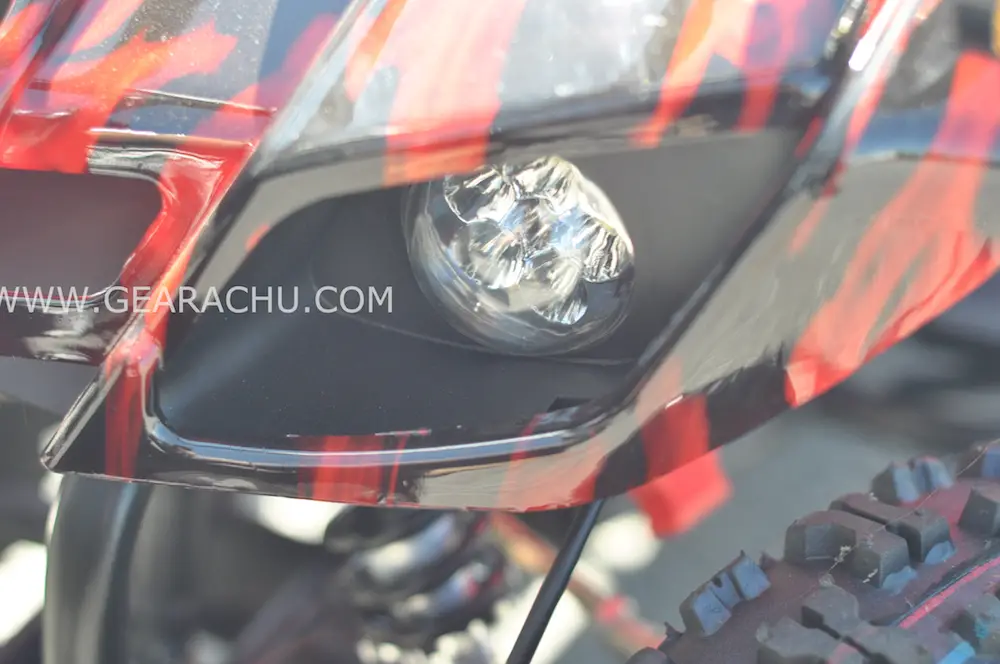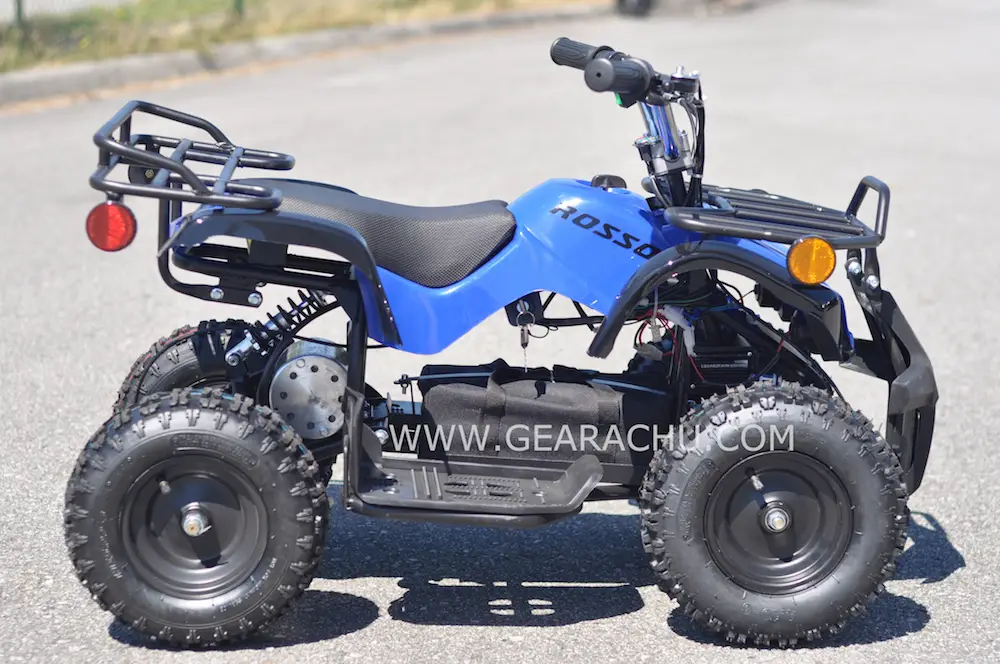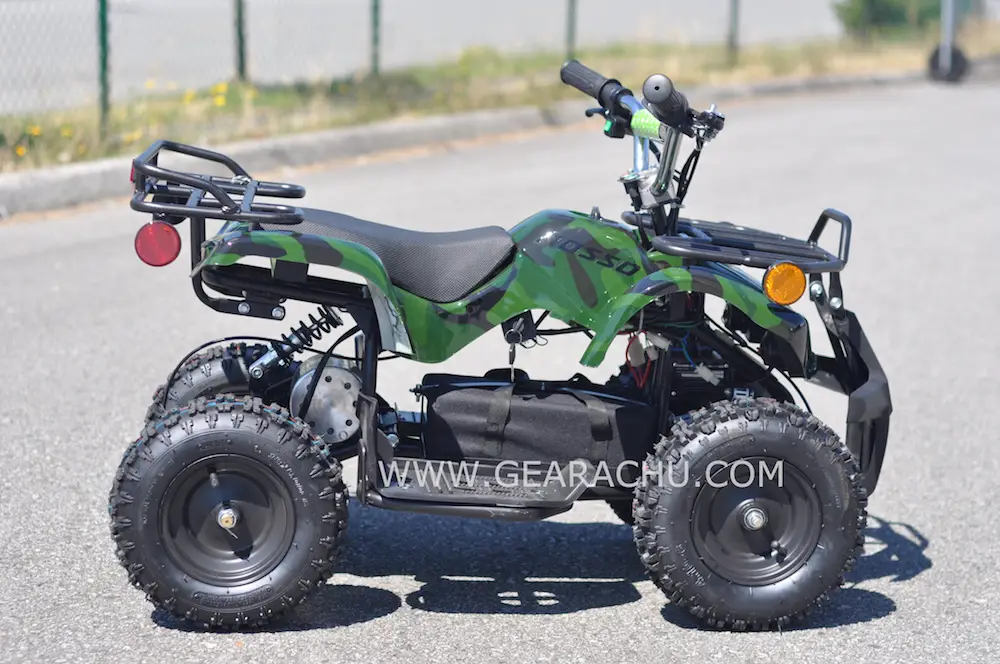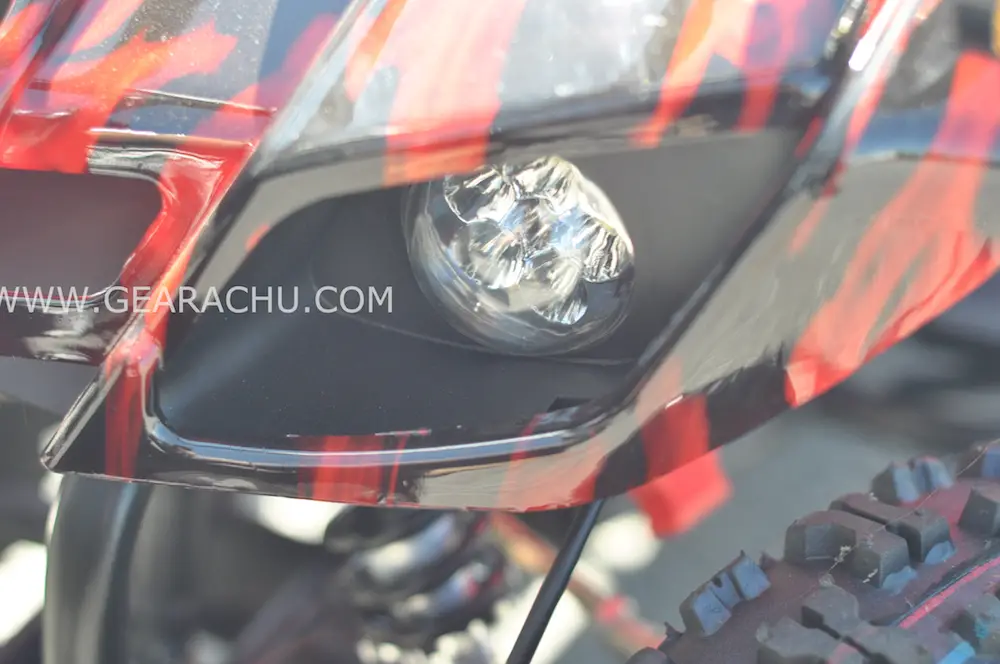 Summary
Solid and powerful kids ATV with 36V battery
Real off-road rubber tires with plenty of thread
Real disc brake system for effective braking at higher speeds. 
Comfortable, soft-touch rubber seats
Real suspension package with springs to ensure a smooth ride.
Comes with front and rear steel racks for your child to carry his or her items.
---
A while ago, I was looking for a birthday gift for my son. I thought it'd be cool to get him one of those ride-on toys as I know that he always gets excited when he sees one at Walmart. I started to do some research on the internet to see what's on the market but got quite disappointed to find that most rides are too expensive for the quality.
I want something that is durable, got good power and that my son can ride even on rough terrain. 
Most models I saw online were too "plastic" meaning the frame was made of plastic, the seats are plastic and even the tires are plastic. Sure, they will be good enough for normal sidewalks and paved roads, but as soon as you take them out on rocky or muddy terrain, they will break.
I did more research and found this company called Rosso Motors selling kids ATVs that seemed to be of high quality and at a reasonable price. Since they are located just a few blocks from where I live, I decided to call them to see if I can go check out the rides in person. 
When I got to their store, I was greeted by their friendly staff who showed me their three eQuad X models currently on sale. I had the opportunity to check out each one. I told their staff that I run a blog about ATVs and was wondering if I can get more photos for a review post. They pleasantly agreed. 
In this post, let's look at the Rosso Motors Canada eQuad X Kids ATV models in detail. I will go through everything I've discovered from top to bottom and hopefully help you out if you're looking for a ride-on toy for your child.
Specifications
Recommended Ages: 3 to 8 years
Weight Capacity: 90lbs (40kg)
Battery: 36V (3x12V) / 12AH lead acid
Power: 800W
Top Speed: 13mph (20km/hr)
Transmission: Electric 3-speed with governor
Maximum Range: Up to 2 hours
Charge Time: 6 hours for a full charge
Reverse: Yes 
Brakes: Disc
Tires: 4.10-6 inflatable (11.5" diameter)
Wheel Base: 28″ (71cm)
Seat Height: 19″ (48cm)
Ground Clearance: 4″ (10cm)
Product Dimensions (L x W x H): 39″ x 22″ x 28″
Net Weight: 110lbs (50kg)
Available Colors
Rosso Motors eQuad X ATV for Kids: A Closer Look
Rosso Motors Canada currently offers the eQuad X Kids ATV in 3 different color variations. They are the Navy Blue, Camo Green, and Inferno Red. I was able to get my hands on all 3 models. The inferno Red model is their latest design. 
Note that all 3 color variations have the same technical specifications. The inferno Red version is more expensive because it's their latest and most sought after design.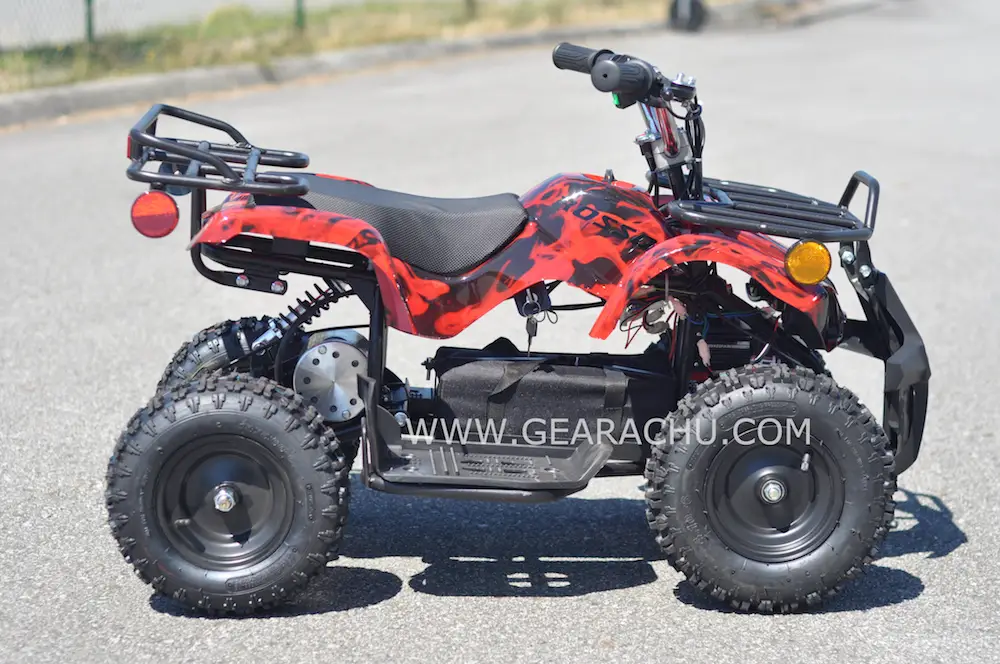 Body and Frame
The first thing that I noticed while pushing the machine out of the shop was its weight. This thing is hefty, weighs about 110lbs and you're going to need 2 adults to lift it. The good thing about this is that the weight pushes the tires harder to the ground, giving it good grip and traction especially while riding at higher speeds.
At the front of the ATV is a bumper (plastic plate with steel bracket), aggressively designed to fit the styling of the ATV. This is a great touch as we know how easy kids will bump into things and the steel bumper adds extra protection for the ATV. Keep in mind that the bumper is there to increase the strength of the ATV in case of a head-on collision. It's a good idea to wear a helmet while riding this ATV.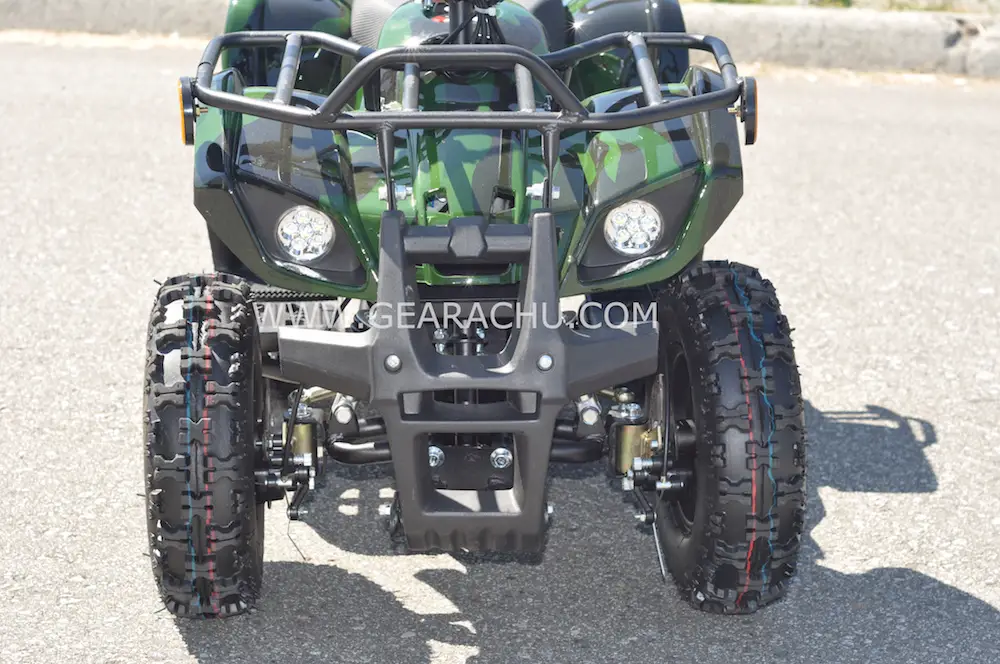 There are 2 headlights at the front of the machine. This is a great little feature for some extra lighting especially for riding late in the day. They are not designed for night riding as I don't think they are bright enough for that purpose. However, they will provide enough light for your child to at least see the terrain in front of him/her during those late hours. 
At the top of the bumper is a steel storage rack which your child can strap on a bag or box for easy transport. There is another steel storage rack at the back of the ATV as well which I was pleased to see. You don't normally get this much storage space on other kids ride-on toys.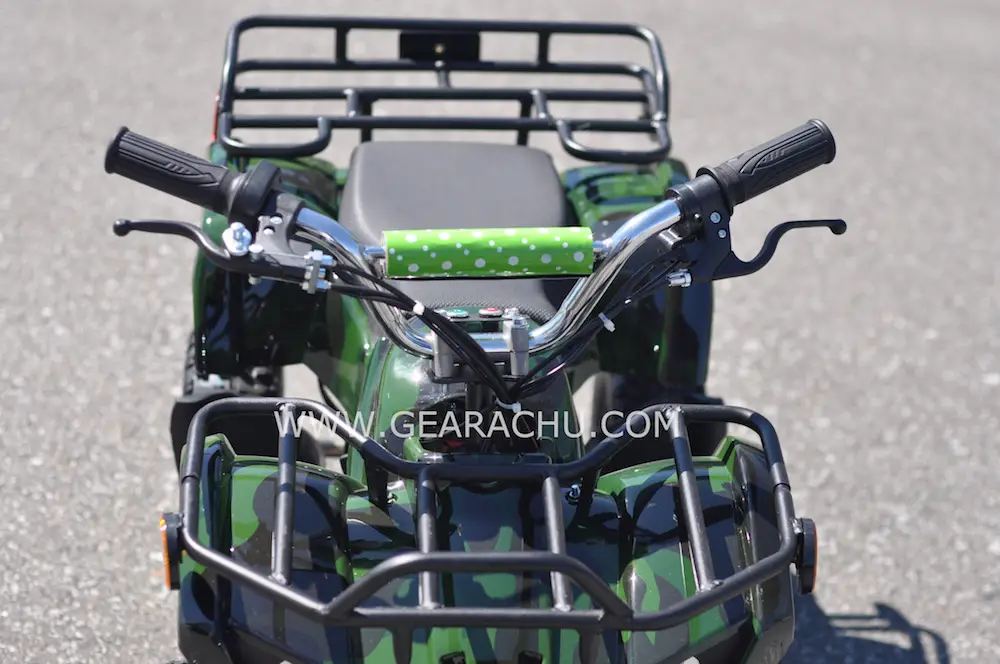 The body is made of plastic and in the case of the Camo and Inferno Red versions, the design is printed on to the plastic. This means you don't need to mess around with stickers and there is no worry of the design peeling off from rubbing on clothes.
There are 5 light reflectors that come stock with this ride. One on each upper corner and one in the middle of the rear rack. 
On either side of the ride are large footrests/pedals that your child can use to get on and off the ride. The pedals have grip studs to prevent slipping. They are also designed with barriers at the front and back so your child's foot would not get caught in the wheels.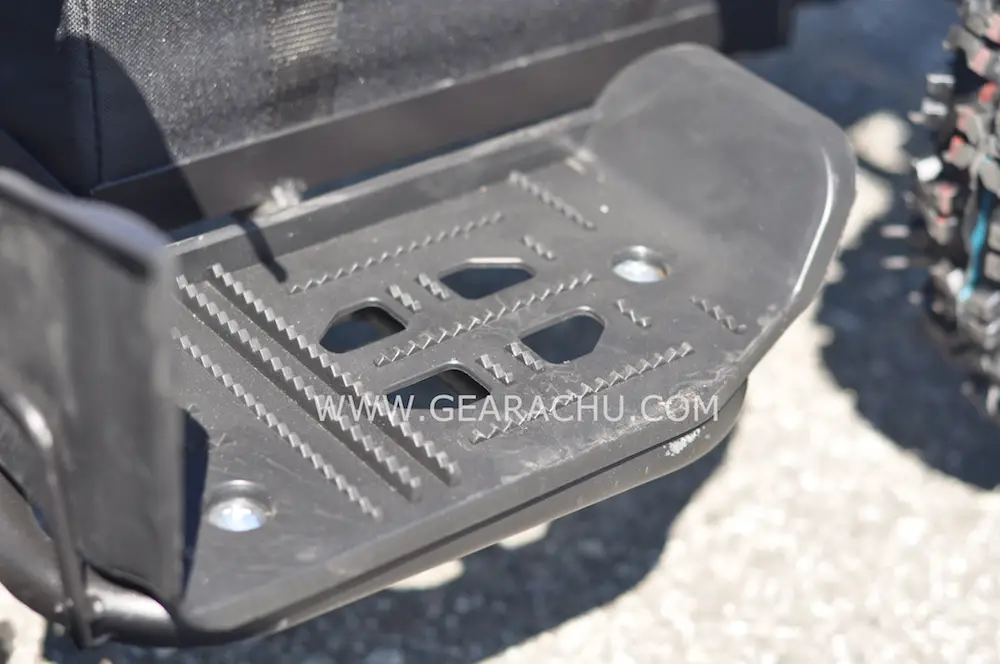 Unlike the plastic seats that you get with other ride-on toys, The seat on the eQuad X is made of soft-touch rubber with a nice texture. The seat is also quite large. I am pretty sure I could fit two 3-year olds on the seat and both of them would feel comfortable. 
Tires and Suspension
An impressive part of this ride is the real off-road tires that mimic those on adult ATVs. The stock thread on it is amazing. We don't have anymore pennies here in Canada so I did a "nickel test" by placing a nickel next to the thread for measuring. I was surprised to see that the thread was deep enough to cover almost half the nickel. Each tire is around 10" in diameter and comes with a valve stem for pumping the tires up if required. The recommended tire pressure is 7 PSI.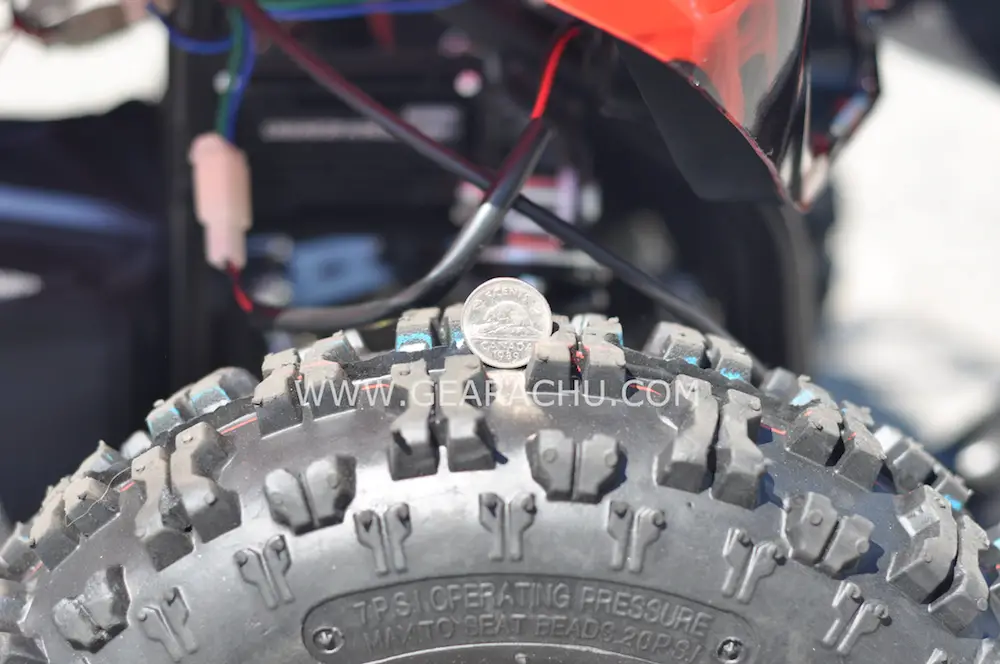 There are in total 3 springs on this ride. There are 2 on each of the front wheels and 1 on the back attached to a bracket on the rear axle. The suspension system really helps during off-road riding over rough terrain. They absorb the shock and keeps your child comfortable.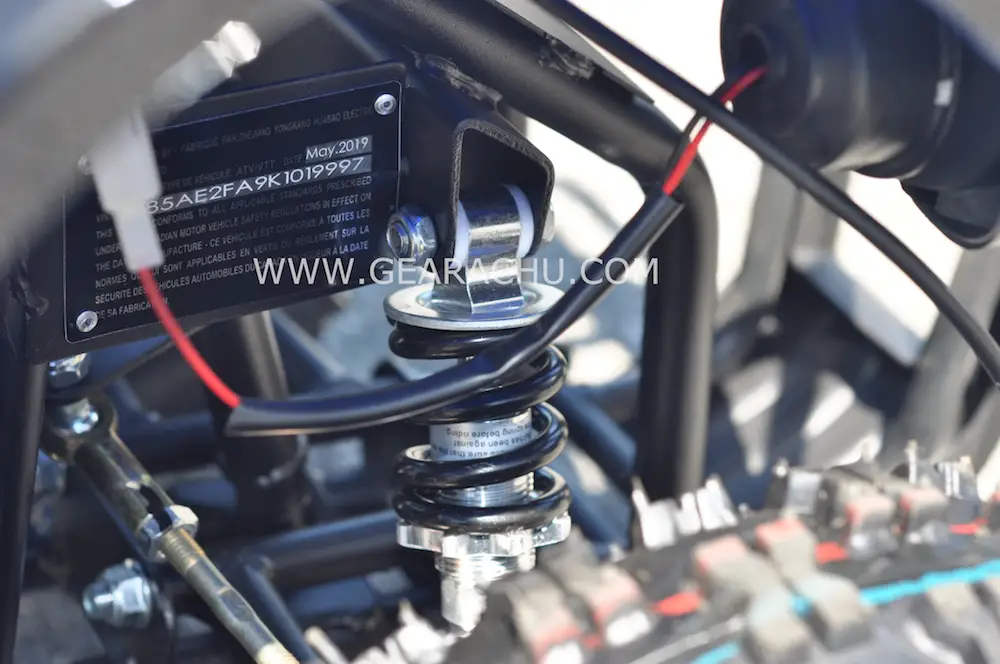 Control and Performance 
The eQuad X comes with handles made of soft-touch rubber and good grips. The right handle is for throttle and there is a light-up color indicator, which shows the battery level. At the top of the right handle is a brake handle, which activates the front brake pads. 
On the left handle is a green on-off button for the headlights. At the top of the left handle is the brake handle which is used to activate the brake pads in the rear wheels. 
There is a control switch at the center just below the handles which allows your child to switch between forward, off (neutral) and reverse.
At the bottom center of the ATV is a clothed box which houses the battery. The motor is located right under the rear spring. It's attached to a chain which powers the back 2 wheels. There is a chain cover which helps to protect the chain and prevents your child's foot from getting caught. 
The guys at Rosso Motors told me that this Rosso four wheeler can reach maximum speeds of about 13mph (20km/hr). I didn't actually let my son go that fast but this Rosso Motors 36v ATV does have a good punch. Let's just say you probably won't be able to chase your child by foot so it's important to set the right speed setting before letting your child play (more about this below). 
Security and Safety
The Rosso eQuad X is equipped with indicators and safety features. Ignition is controlled by a key on the right side of the machine and your child can't turn it on without the key. On the left side of the machine, there is a key switch which adjusts the maximum speed. This allows you to control how fast your child can go and your child cannot adjust the speed setting without the key. 
There is a gear indicator right under the handlebar. This indicator contains a green "N" and red "R" indicator light. "N" is for neutral and will light up when the machine is in neutral gear. "R" is for reverse and it will light up when the machine is in reverse gear. Note that if the machine is in forward gear, the indicators will not light up. 
Final Thought
My son had a great time at Rosso Motors and enjoyed riding on the blue eQuad X (his favorite). While he was playing the Rosso electric ATV, I made a quick summary of the pros and cons of this machine:
Pros:
Real off-road tires provide great traction on any terrain including mud, snow, grass, and sand. 
Great safety features including speed control key switch, light reflectors, wheel/chain barriers/covers, and gear indicator. 
Real disc braking system which is important for a machine that can go fast.  
Real spring suspension system for a comfortable ride
A seat that is large enough for your kid to take along his friend. 
Large cargo racks made of steel construction for taking along other toys for your child. 
The headlights and front bumper is a nice touch 
A battery can last up to 2 hours on a single charge
Cons: 
Speed switch doesn't indicate the actual maximum speed for each setting. It would be nice to know the maximum speed for each setting without having to refer to the manual each time.
The body is made of plastic. Although light, it doesn't look too strong. Rosso assured me that there are replacement parts if needed. They also ship each unit in a "cage" to ensure the machine is protected during transportation. 
Doesn't have a foot brake. My son found it difficult at times to steer while braking. It would be nice to have a foot brake in future models. 
White led headlights will definitely make this ride awesome for night riding. Unfortunately, the stock headlights may not be bright enough for this purpose. 
Overall, I was quite impressed by the Rosso eQuad X ATV for kids. The ride is solid, the build quality is good and my son had an amazing time playing with it. I am pretty set on getting the blue version for him for his birthday.