If you're planning to take your UTV out for fishing or hunting, you may be wondering what type of setup you need for your ride. I was recently wondering about this and so I decided to do some research on how I can setup my UTV for 3 of my favorite activities: Ice Fishing, Fly fishing and Hunting.
In this post, we will look at the common types of setups you can have on your UTV for fishing and hunting. This post will provide the basic items you should have for each setup and why they are important.
Ice Fishing UTV Setup 
This setup focuses on safety and obtaining maximum traction while your drive on the snow and ice. Here's what you need for this setup:
Flotation Device – If your UTV goes underwater, chances are that you won't be able to save it, but you need to keep yourself safe. The freezing water under the ice will numb the senses in your legs and body quickly and you've only got a short time to react. 
An emergency flotation device such as the Nebulus Emergency Flotation Device can inflate within seconds of activation and probably save your life in the event of an emergency. Keep in mind that these kinds of flotation devices are meant to save you, not your UTV. 
Digger / Ice Auger Carrier –  Sure you can simply strap on your ice auger to the frame or to the front of the vehicle, but transporting it this way is neither safe nor secure. That's why it's better to use a digger/auger carrier so that there is a dedicated place to hold this expensive piece of equipment. A carrier can also get the ice auger out of your way so you can focus on driving. 
Large Cargo UTV Box – You're going to need someplace to store your equipment, food, drinks, gear, extra gas, and the fishes. A large UTV cargo box can help you store everything in one place. Ideally, it should be lockable, straps onto your frame easily and double as a cooler in case you need it. 
Fish Finder –  Of course, what's an ice fishing setup without a good fish finder? A good fish finder will have the ability to display complete fish location, underwater structure, and water depth information. 
Snow Tracks / Chains – Traction is everything when you're driving on the ice. You have the option of installing a good set of tracks or some snow chains. Here's what you need to consider:
Budget – Snow tracks are going to set you back a few grand but they can get you through deep snow, reduce the pressure of your ride on the ice and give you the traction that you need. Keep in mind that tracks won't prevent you from falling through the ice. You still need to check the ice thickness before driving on top.
Weather – Imagine being out in the middle of a lake when a snowstorm hits. Chains are not going to get you out of thick snow. On the other hand, chains will do just fine in normal clear conditions. If you simply need some extra traction on the ice, go with chains.
Hauling – If your thinking about hauling additional gear with you on sleds, then tracks will make that job easier as it will give much more traction and control.
Ride Height – Tracks will give you more height on your ride and it's something that most people overlook. There are different opinions about this, some don't like the higher ride but it's necessary if you want to make it through thick snow.
Speed / Power – You're going to lose speed and power with tracks but you may be able to make it up by choosing a faster route rather than going around. Does your ride have enough power to support the power lost? Tracks works great on machines with bigger engines (1000cc) but the tradeoff is higher fuel consumption.
Wheel Bearings – Tracks require extra leverage from your wheel bearings and over time, your bearings will get worn down. The rate of wear will depend on the softness of snow/slush that you ride on. 
On a side note, be sure to check your local state laws with regards to installing tracks on your ATV or UTV. Some states such as New Hampshire require UTVs with tracks to be registered as a snowmobile. Check the size of your tracks to make sure that they don't exceed beyond the maximum width allowed by your state. 
Soft, Removable Cab Enclosure – Although it might be nice to have a completely hard cab enclosure, you want to be as light as possible when you're on the ice. A soft cab enclosure can shield you from the wind and let you in and out of your ride fast. It will also make it easy for you to escape in case you fall in the water. 
LED Lamp Bar – You're going to need as much light as possible when you're out on the lake. Consider mounting an LED lamp bar on the top frame of your UTV so you can find your way back out during the late hours. 
UTV Setup for Hunting
This setup focuses on UTV stealth, strength and the transportation of hunting dogs. It maximizing room for storing gear, firearms and carrying your catch. 
Front Bumper Guard – If you're going into an area with a lot of rough terrains, then it's a good idea to beef up your UTV with a front bumper guard. Guards these days are usually made of steel and comes with mounting points to make the installation easy. It's best if you can find one that comes with an attachment bracket for an LED light bar. 
Gun Racks – There are a couple of places where you can store your firearms. All of them will work for this setup. Let's discuss the benefits of each one:
Overhead Gun Rack – Storing guns in the overhead area of a UTV is a very popular option. This is a great area because it keeps your firearms out of the way until you need them, It gives you easy access in case you need it quick and there is no risk of losing your firearm in case of a roll-over.
Cargo Bed Gun Rack – If you're taking a friend with you and have a few firearms to carry, then storing the extra ones in the cargo bed might work for you. These racks are designed so they won't take up a lot of your cargo space. 
Roll Bar Gun Rack – If you prefer to keep your cargo space free, you may consider the roll bar gun rack. This kind of rack gives you easy access to your firearm. It's not as convenient as the overhead style because it requires you to turn around and reach back but it does keep your gun out of the way until you need it. 
On Seat Gun Case – These gun cases are designed to keep your firearm between the driver's seat and the passenger seat. The advantage is that you can draw on your firearm in seconds. The disadvantage is that it gets in the way while your driving. 
Cellular Booster – You don't want to be stranded in the middle of nowhere without any help. Most hunting trips are done in remote areas with basically no cell connection. Considering mounting a cellular booster to your ride for added peace of mind. 
Winch – You will never know when you'll hit a muck patch, especially if you are hunting in areas with tons of rain. Mounting a winch on your UTV can get you out of places in case you get stuck.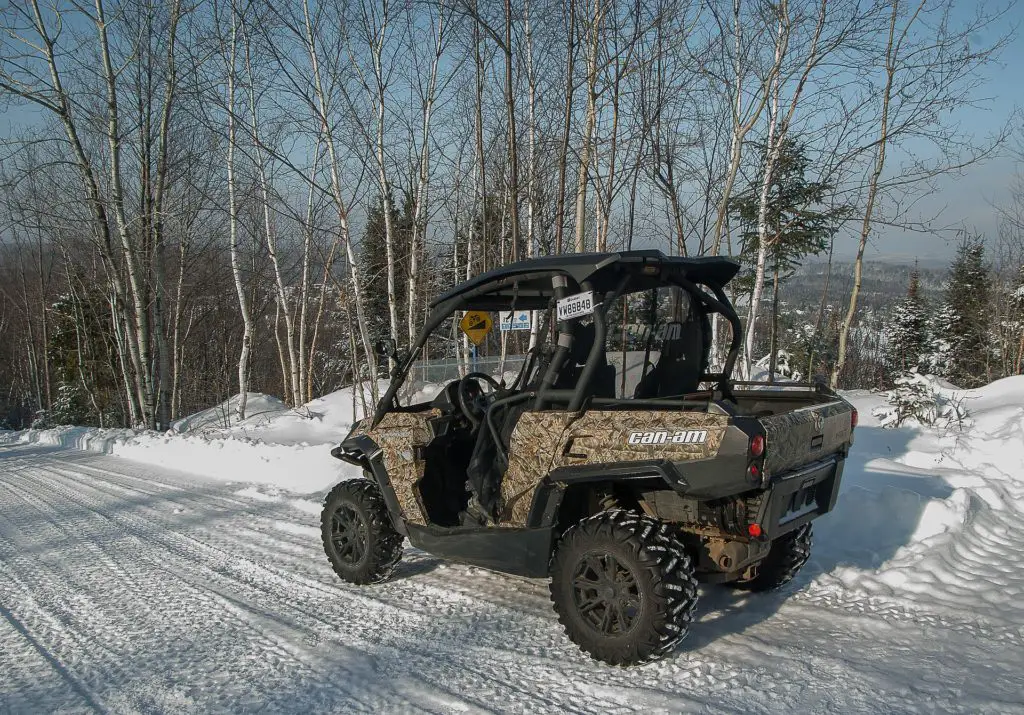 Camouflage Vinyl – What's a good hunting UTV setup without some camo? Almost every UTV manufacturer will carry camo kits for their UTVs. If you want to DIY, you can also buy rolls of camo vinyl online. Simply cut to shape and stick them on your ride.
Rear Catch Bracket – Keep blood and urine out of your cargo bed with a rear catch basket. It makes the cleanup job easier while also having a dedicated area to store your catch. If your catch will be kept alive, get a basket with a lid.  
Roof Rack – As our setup will create room to transport hunting dogs, you're going to need some extra room to store your gear and other items. A roof rack will do you good here. 
Lighting – Extra lights is always a good idea. Consider mounting an extra led light on your roof rack or top frame. If you opt for a bumper guard with space to mount a light bar, that's a good option as well. 
UTV Dog Mat – Use a UTV dog mat to give your dogs a comfortable ride while keeping your UTV clean. 
Skid Plates – Save your undercarriage with heavy-duty skid plates that will allow you to ride your UTV through thick underbrush and over jagged rocks. Less damage means less maintenance and an increase in resale value. A lot of people oversee this one but in my opinion, it's definitely worth it. 
UTV Setup for Fly Fishing
This setup is designed to get you through mountain roads while maximizing cargo space so you can carry your boat, you buddies and gear safely and securely. 
Extended Roof Rack / Cargo Rack – You're going to need an extended roof rack or cargo rack to tie your boats. Depending on the model of your ride you may have to custom make it at your local shop. Towing a trailer here is not recommended as you will be traveling through mountain roads. 
Rod Holders / Bag – This goes without saying but you'll need a safe and secure way to carry your rods. For transport, you may consider opting for a roll cage organizer which will protect your rods and give you extra room for baits and other items. This way, you don't need extra space to carry a tube. If you are on a budget and want to carry your tube instead, you may consider strapping your tube the roll cage. 
Large Cargo Box – Having fresh bait is key which is why you need a storage box that can double as a cooler. You can use the same cargo box for storage, keeping your bait fresh and transporting your catch home at the end of the day.
All Terrain Tires – Not a big surprise here but just make sure your tires are good for all terrain types
Rear Seats – A fishing trip isn't complete without a few buddies going with you. Since there isn't a lot to haul (besides the boat, bait, rods, food, drinks and other small personal items) for these trips, you may opt for additional seats in your cargo to accommodate a friend.