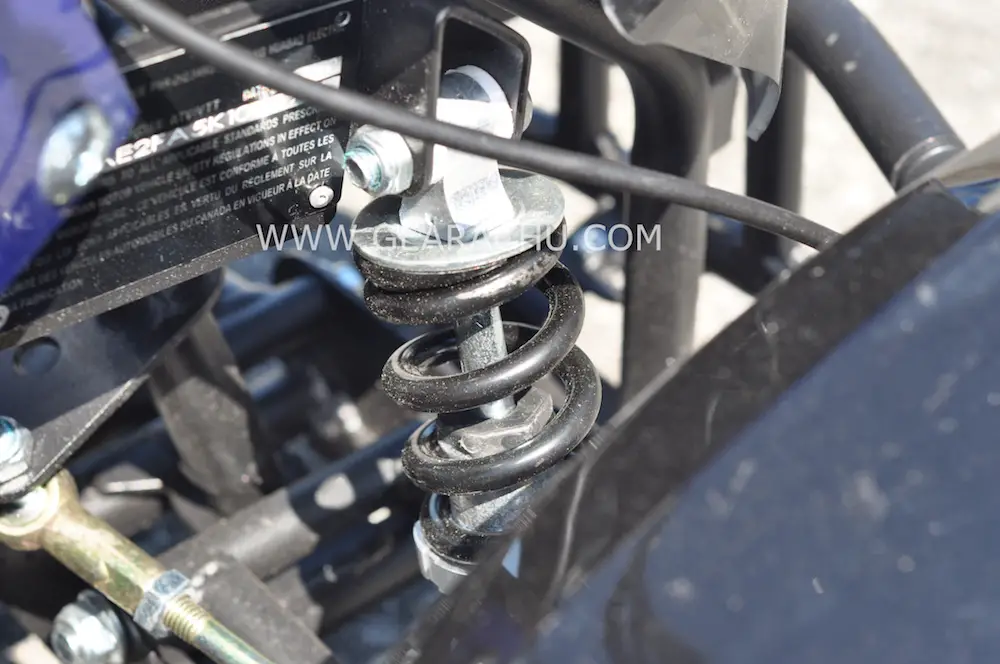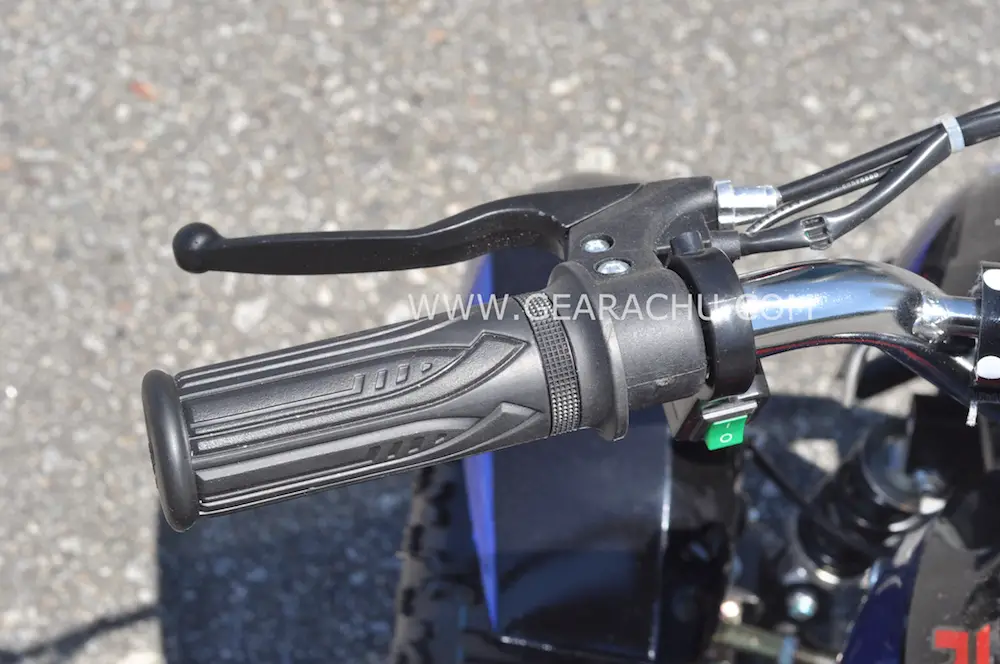 rosso-equads-front-bumper2
rosso-equads-front-headlight
rosso-equads-front-spring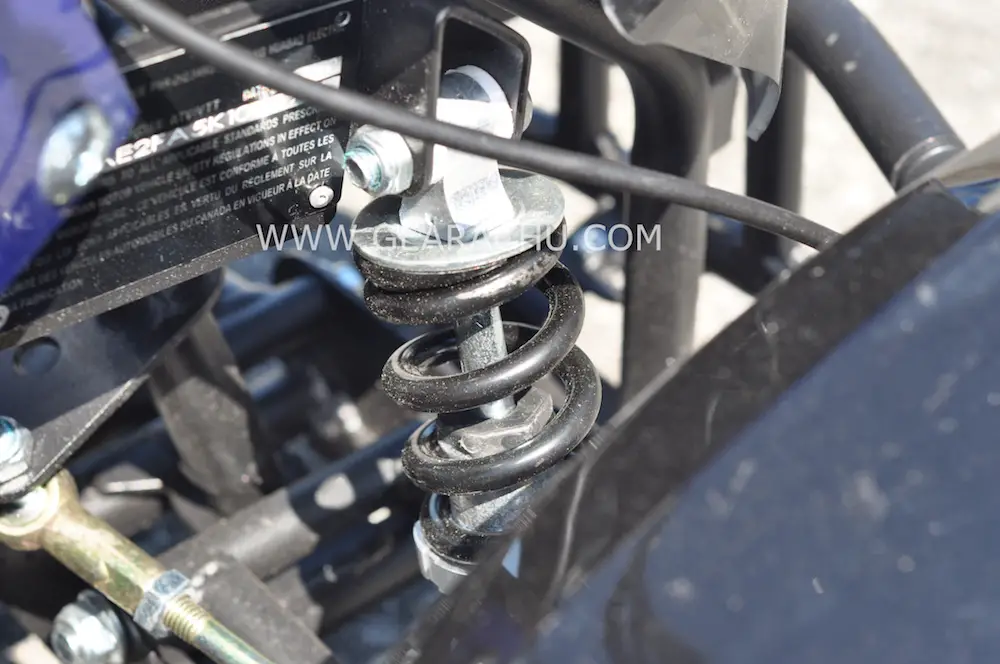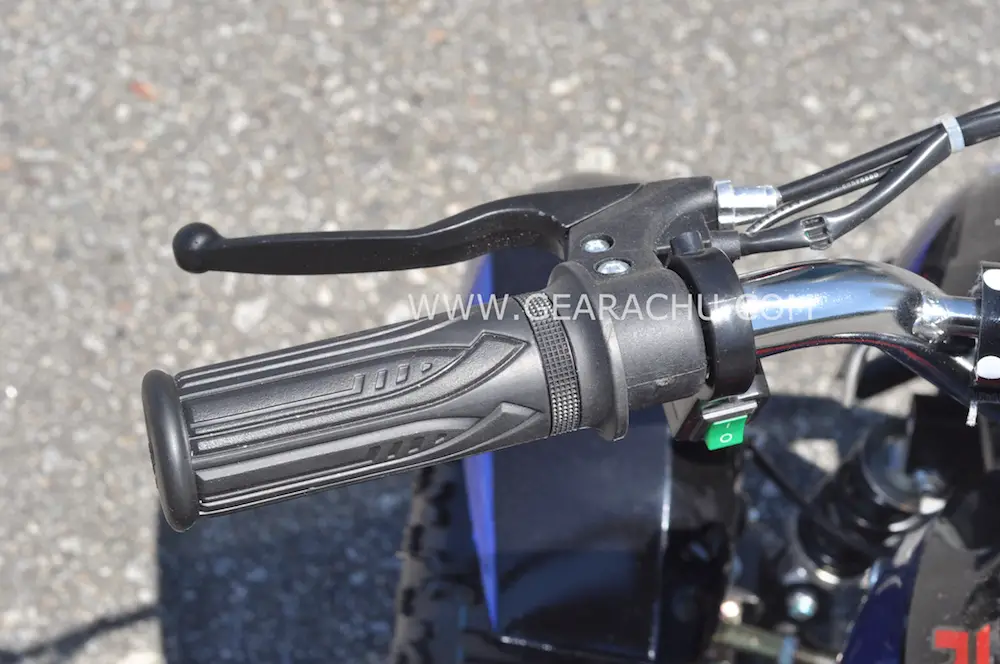 Summary
Lightweight and speedy ATV with tight steering.
Real off-road tires with plenty of thread out of the box.
Stylish and aggressive design with 2 color choices: blue and pink.
Good battery life allowing your child to ride up to two hours on a single charge.
500W electric motor provides plenty of power.
---
I was looking for a birthday present for my son last week and found a local shop called Rosso Motors here in Richmond BC selling kids ATVs. I know my son loves ride-on toys because he always gets excited when he sees one. I've been looking to get something nice for him but was disappointed when I couldn't find anything on Amazon or Walmart that offered decent quality for the price.
Most of the other ride-on toys that are available online are made mostly of "plastic". I'm not particularly picky about the body or the seats being plastic because I understand manufacturers want to keep their budgets low in order to make a profit. However, what I am not happy about are the tires that are made of plastic.
The problem with plastic tires is that they offer no traction and they break easily. I plan on taking my son out a lot this summer and I want him to be able to ride on any terrain including sand, mud, and rocks. Plastic wheels just aren't going to last.
When I saw the kids ATVs that Rosso Motors Canada is offering, I gave them a call to see if I can see their products in person. I ended up going to the Rosso Motors headquarters last week with my son to check out their eQuad S and eQuad X floor models. 
I posted an in-depth review of the eQuad X last week. Since we tried out both models, I wanted to provide my thoughts on the eQuad S as well. 
In this post, we will take an in-depth look at the Rosso Motors eQuad S kids ATV. I will go over everything that I have discovered from top to bottom.
Specifications
Recommended Ages: 3 to 8 years of age
Weight Capacity: 90lbs (40kg)
Battery: 36V (3x12V) / 12AH lead acid
Power: 500W
Top Speed: 13mph (20km/hr)
Transmission: Electric 3-speed with governor
Maximum Range: Up to 2 hours
Charge Time: 6 hours for a full charge
Reverse: Yes
Brakes: Disc
Tires: 4.10-4 inflatable (10" diameter)
Wheel Base: 28″ (71cm)
Seat Height: 19″ (48cm)
Ground Clearance: 4″ (10cm)
Product Dimensions (L x W x H): 39″ x 22″ x 24″
Net Weight: 100lbs (45kg)
Available Colors
Rosso Motors eQuad S Kids ATV: A Closer Look
Rosso Motors Canada currently offers the eQuad S in two different colors: Blue and Pink. I was only able to get my hands on the blue version. The pink version definitely looks cute from the online store pictures. It's not common to find a kid's quad in pink and if I had a daughter, I am confident that she would love the pink one.
Check out the Pink Version at Rosso Motors.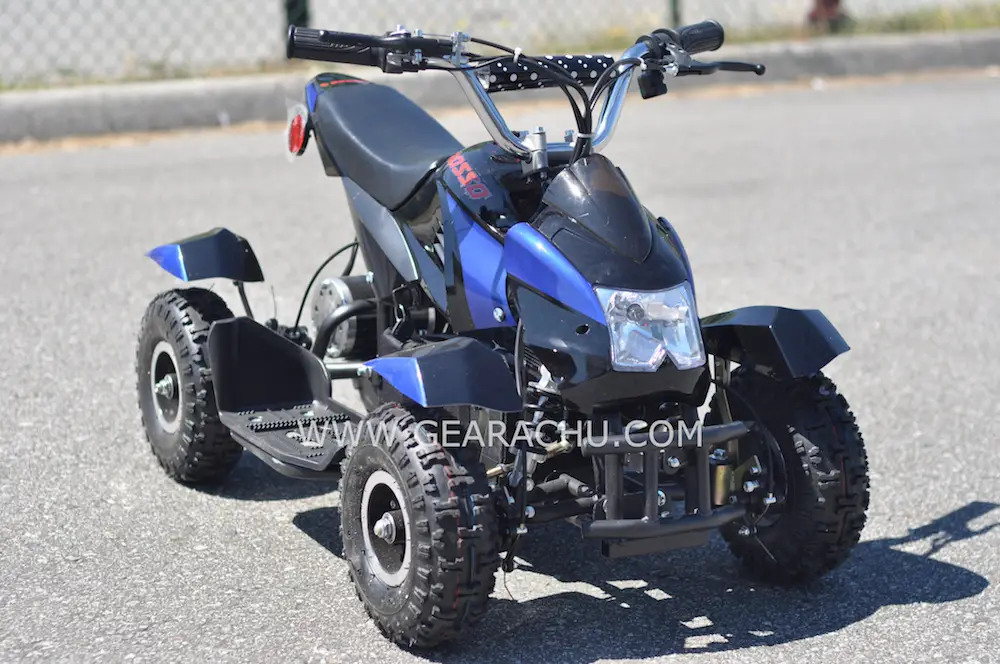 Note that both the Blue and Pink versions of the eQuad S have the same specifications and price. 
Body and Frame
The first impression that I had on the eQuad S is that this Rosso electric quad is built for speed. It's smaller and lighter than the X model. It doesn't have any storage racks and has less plastic on its body. 
At the front of the ATV is a small steel bumper. There is also a single headlight at the top just behind the front bumper. As with the X model, the headlight isn't very bright. This machine is not meant for night riding but it's good enough to let your child see the terrain in front of him/her during the late hours of the day.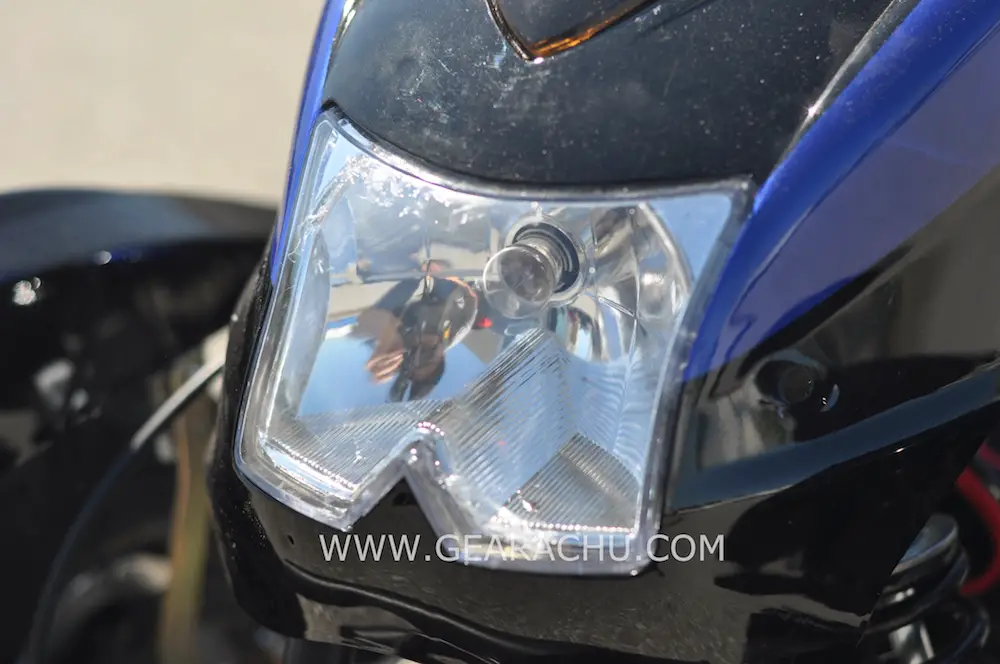 There is a small tanned plastic windshield just above the headlight. It's purely for decoration purposes and it fits nicely with the overall styling of the ride. 
To add to the aggressive styling, there are airflow vents on either side of the ATV. These vents are meant for decoration purposes and have no effect on the performance. However, it's definitely a nice touch.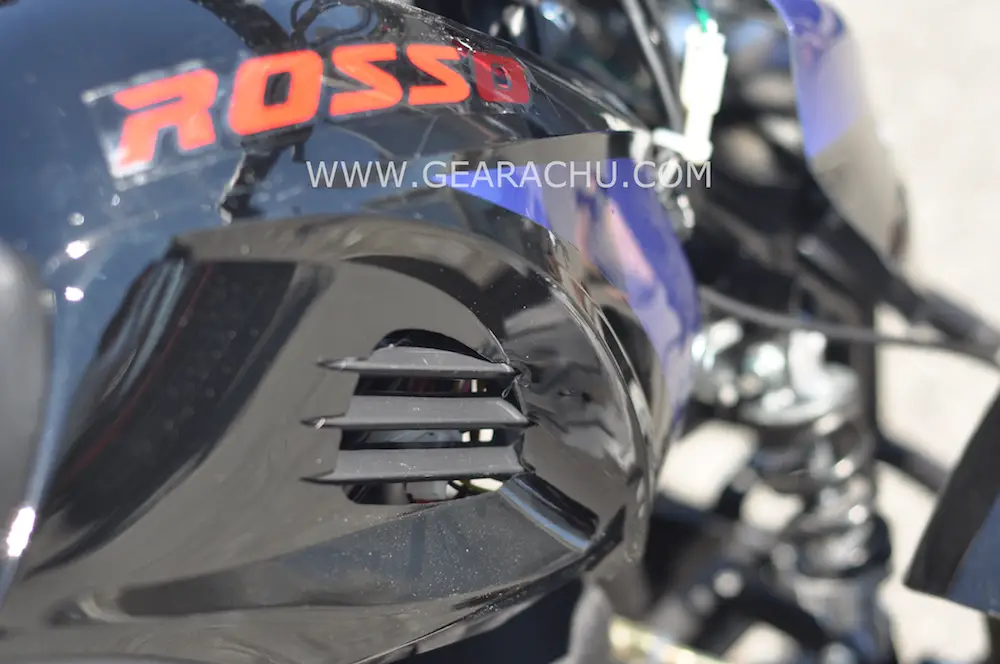 There are in total 5 light reflectors on this quad. There is 1 on each upper corner of the machine and one at the tip of the back tail. 
The seat is made of soft-touch rubber which was nice to see. It isn't as big as the one on the eQuad X and will only fit 1 child at a time. It's slightly slanted forward to keep your child in the forward "racing pose".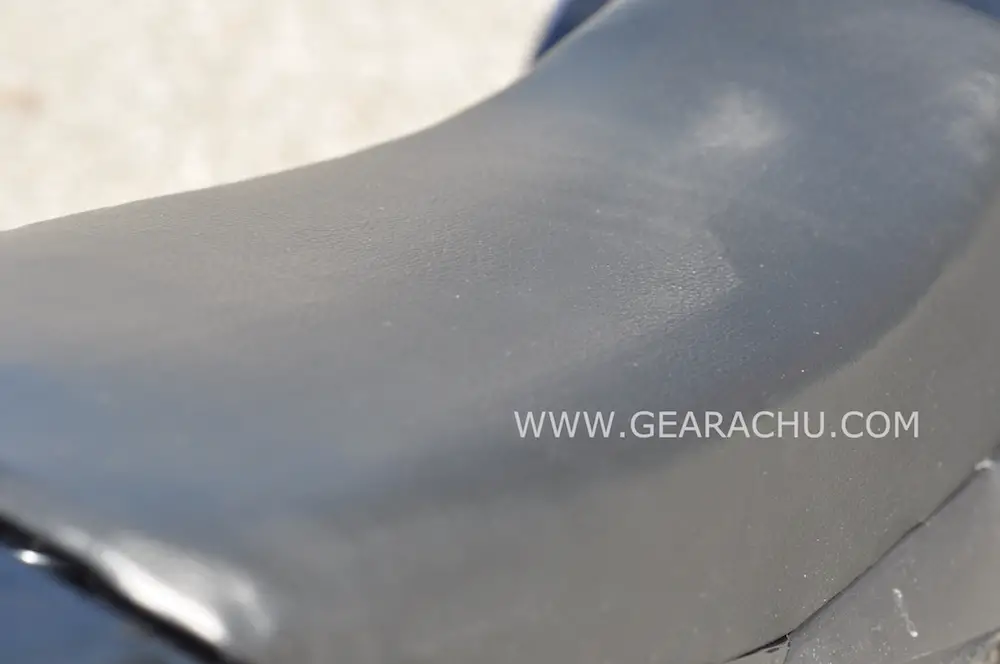 At the top of each tire are plastic fenders. They are designed nicely to match the styling of the car but doesn't cover the wheels well enough to block the mud, dirt, and water that are thrown in the air by the rotating tires. The footrest does provide some protection but it would have been nice if the fenders are bigger so they would serve their purpose. 
The body is made of plastic with a black/blue printed design. There are two Rosso logo stickers, one on each side of the ride. Although tastefully placed, they are prone to rub off after extensive use and it would have been nice if they are printed to the body as well.
The body plastic is thin to help reduce weight but it doesn't look too durable. The guys at Rosso said each machine will be shipped in its own "cage" to ensure that the ATV is protected during transport.
Like the eQuad X, the foot pedal on the eQuad S is large and has rubber studs to prevent your child from slipping. It also has front and back walls to protect your child's foot from getting caught in the rotating tires.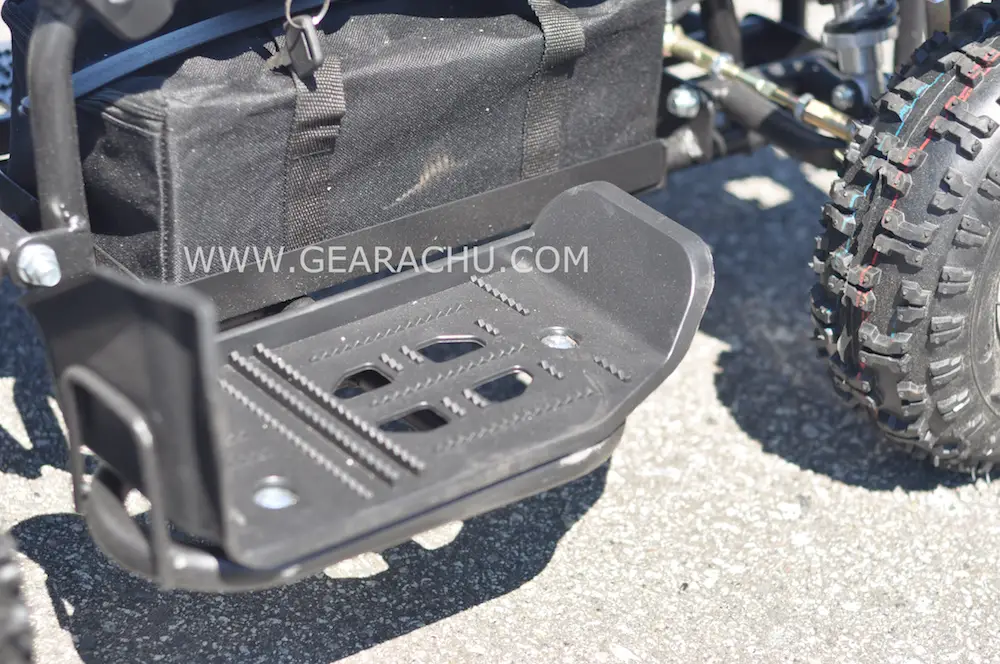 Tires and Suspension
Perhaps, the most important feature on the eQuad S is its real off-road tires. Although the ride is lighter than the X model, your child should have no traction issues. Each tire comes with a valve stem to pump it up if needed. The recommended pressure for each tire is 7 PSI. The S model uses the same 10" diameter tires as the X model and there is plenty of thread on them. 
As we don't have any more pennies here in Canada, I did a "nickel" test on the tires and was pleased to see that there is almost 1⁄4 nickel deep in the thread on the stock tires.
The eQuad S uses a real coil/spring suspension system. There are in total 3 spring/coil setups. There is 1 supporting each of the front tires and 1 in the back under the seat and attached to the center of the rear axle via a support bracket. The suspension system did a great job of keeping the ride stable when driven over some grass and rocks during our test.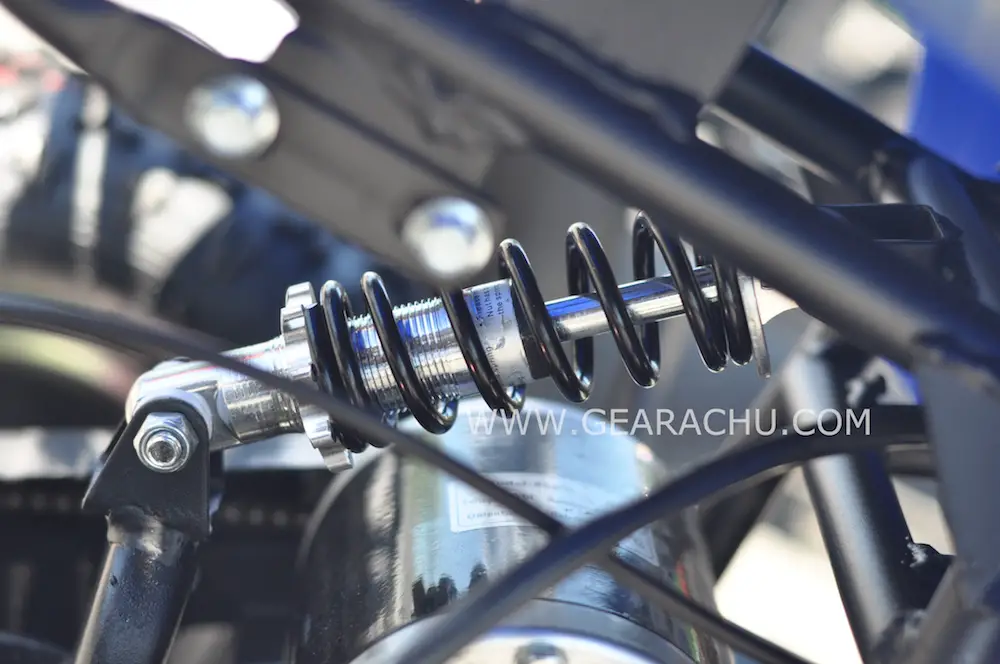 Control and Performance
The eQuad S comes with a sturdy metal handle with soft-touch rubber grips. On the right handle, there are light indicators which display the battery level. At the front of the handle, there is a brake handle that activates the front brake pads. The right handle is also used for throttling.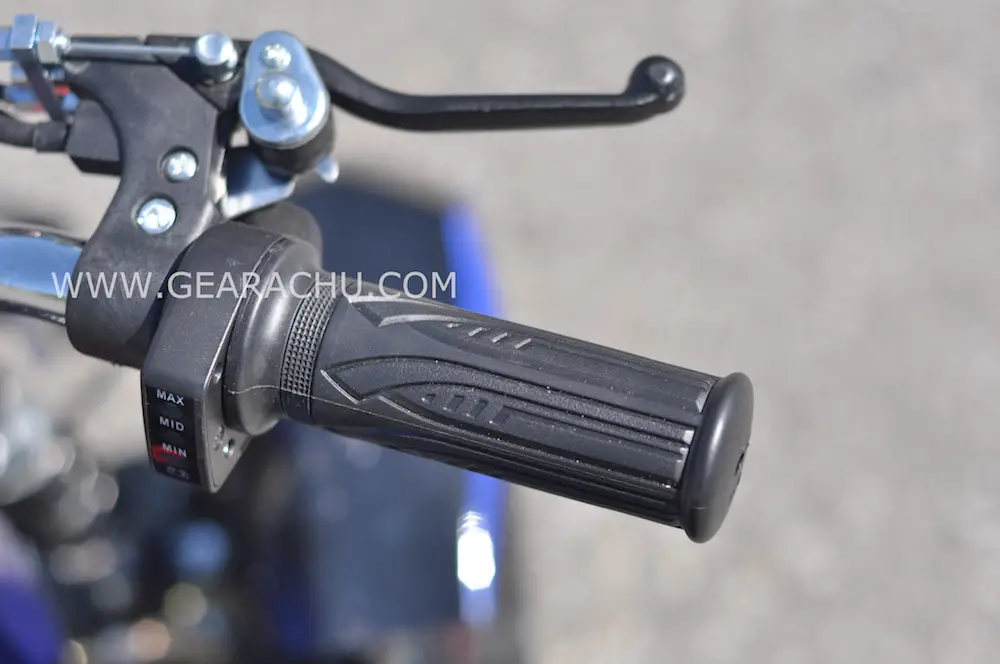 On the left handle, there is a green switch to turn the front headlight on or off. There is also a brake handle for the rear brake pad.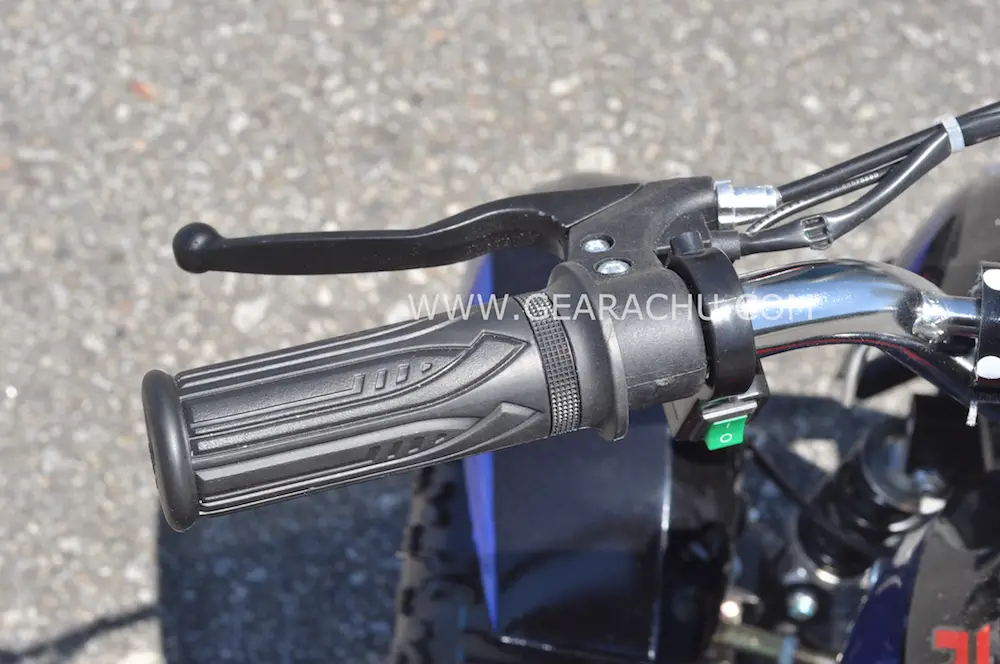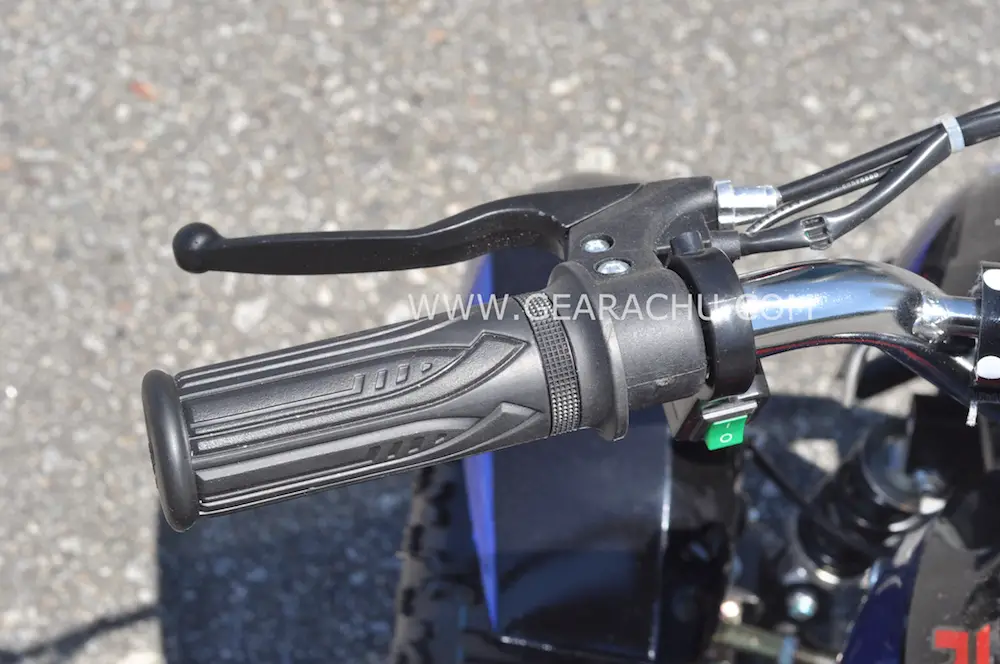 Like the eQuad X, the S model comes with a control dial under the handlebar which allows your child to switch between Forward (F), Neutral (N) or Reverse (R). There is a light indicator which lights a green "N" when the machine is in neutral mode or red "R" when the machine is in reverse mode. Both of these indicators will not light up if the machine is in forward mode.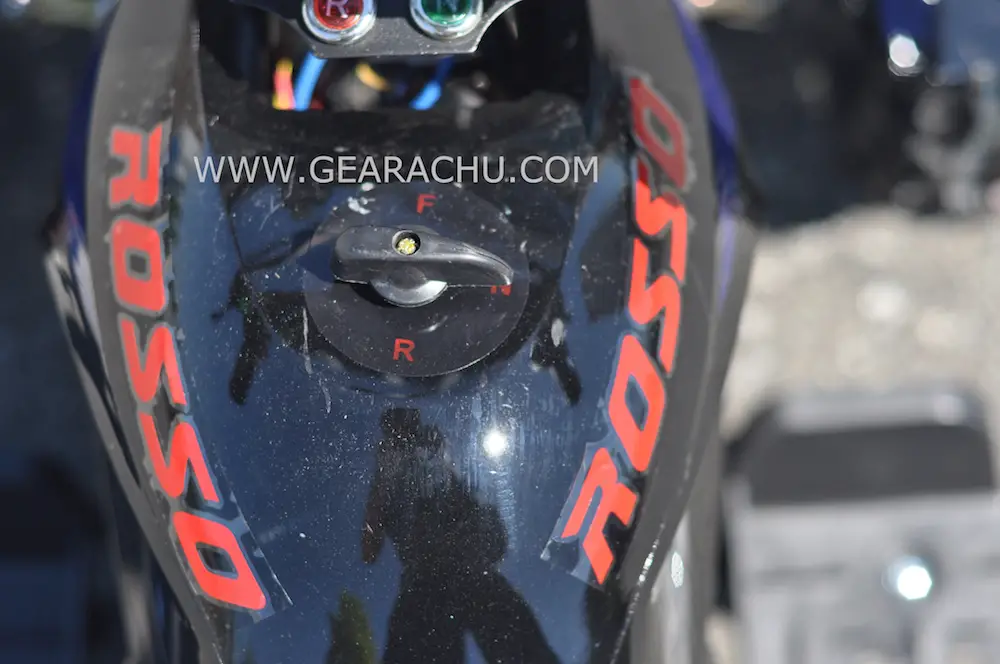 The S model is powered by a 500W motor via chains to a gear attached to the rear axle. A chain cover ensures that your child's foot is safe and will not get caught in the chain. 
The battery is kept in a clothed bag under the seat. The guys at Rosso told me that the battery can last for 2 hours on a single charge. I didn't get a chance to test this out as I was there for only 45 minutes. However, the ride performed well for the time that I was there and there wasn't any indication of a weak battery or lost power. 
The overall lighter footprint of this Rosso Motors 36v ATV allows it to rip around corners quickly and with the seat tilted forward, it encourages your child to remain in the "racing position" and focused on what's in front of him/her. The S model uses a smaller motor than the X model but it got up to speed faster than the X model.
Safety
There is a key ignition switch on the right side of this Rosso electric ATV just under the seat. The key is removable and your child will not be able to switch off the ATV without the key. 
On the left side of the machine, there is a key switch that controls the maximum speed that the ATV can go. There are 3-speed settings and your child cannot adjust the speed without the key. 
Other safety features are the light reflectors, wheel walls on the footrests and the motor chain cover which I have already discussed in this post. 
It's important to point out that this ATV is FAST! Rosso claims that it can reach up to 20km/h (13mph). I didn't let my son try that out but it was obvious to me that I am going to need a helmet, knee pads and elbow pads for him if we choose this ATV. 
You're definitely not going to be able to chase your kid around by foot while he/she is playing with this ATV so make sure you adjust the speed setting before letting your child play.
Final Thought
Here are some important pros and cons that I think you need to consider:
Pros
Real ATV for kids with real ATV parts.
Speedy ATV with great built quality and reasonable price.
Off-road tires that are great for traction on snow, mud, snow, and sand.  
Real brake discs for good braking, even at high speeds. 
Real spring/coil system is great for bumpy roads.
A good strong battery that can last 2 hours on a single charge.
Large footrest with stubs to prevent slippage. 
Cons
Wheel fenders are too small and will not be able to block all the material that will be thrown up by the tires. 
No foot brake making it hard to steer and brake at the same time.
The small seat is suitable for only 1 rider at a time.
The headlight is a good touch but not very functional.
Only 1 brake disc on the back axle. Would be nice to have one for each wheel. 
Overall, the Rosso Motors eQuad S ATV is a great ATV for kids. This Rosso four wheeler is a lot cheaper than the X model and offers much of the same functionality and performance. In the end, I went with the eQuad X model because it's bigger and has some racks for my son to store his items. However, if you're looking for a quick and fun machine for your child to race around with. The Rosso Motor eQuad S is a great choice!